Cast Members
Jim Rash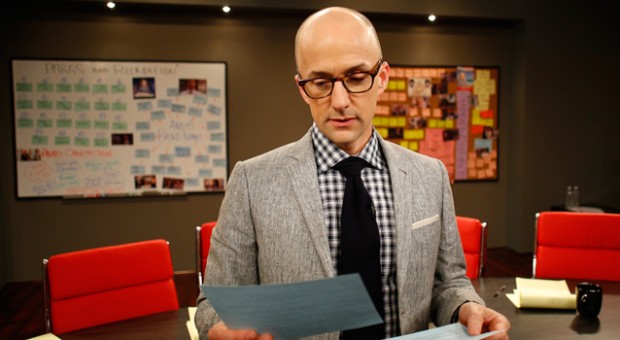 Jim Rash is an Academy Award® winning writer, as well as an acclaimed actor and director who has emerged as one of Hollywood's most gifted and multi-faceted talents.

In 2012, Rash won an Oscar® for Best Adapted Screenplay of The Descendants, which he co-wrote alongside Alexander Payne and writing partner Nat Faxon. Starring George Clooney, Judy Greer, and Shailene Woodley, the comedic drama was released in December of 2011. He also received an Independent Spirit Award, Writers Guild of America Award, Satellite Award and National Board of Review Award for his screenplay.

Next up for Rash is the Fox Searchlight film, The Way, Way Back, which premiered at the Sundance Film Festival. Joining his writing partner, Nat Faxon, Rash co-wrote, co-directed and stars in the film alongside a notable cast including Steve Carell, Toni Collette, Sam Rockwell, Amanda Peet and Maya Rudolph. A funny and poignant coming of age story, the film centers on 14-year-old Duncan's (Liam James) summer vacation with his mother, Pam (Toni Collette), her overbearing boyfriend, Trent (Steve Carell), and his daughter, Steph (Zoe Levin). Having a rough time fitting in, the introverted Duncan finds an unexpected friend in gregarious Owen (Sam Rockwell), manager of the Water Wizz water park. Through his clandestine friendship, Duncan slowly opens up and begins to find his place in the world— all during a summer he will never forget. The film, which will close this year's LA Film Festival, is set for limited release July 5th, 2013. In addition, Rash is currently writing with Faxon on an untitled action comedy for Indian Paintbrush featuring Kristen Wiig

Beyond his work in film, Rash has appeared in a number of noteworthy roles in television. He most recently completed production on season four of NBC's hit comedy series, Community, where he plays the cross-dressing educator, "Dean Pelton" who believes Greendale Community College has the potential to rival Ivy League universities. This past season, Rash also wrote the episode titled, "Basic Human Anatomy." When Annie (Alison Brie) and Shirley (Yvette Nicole Brown) learn that Leonard (Richard Erdman) is actually holding the spot as the class valedictorian, they join forces to bring him down. Meanwhile, Troy (Donald Glover) and Abed (Danny Pudi) reminisce about one of their favorite body switching films and when they inadvertently re-enact a critical scene, things start becoming a little funky at Greendale.

In addition, Rash has been seen in recurring roles for Comedy Central's satirical series Reno 911! where he played "Andrew the Whore House Guy"; Fox's period sitcom That 70's Show starring as "Fenton" opposite Mila Kunis and Ashton Kutcher; and ABC's situation comedy, Help Me Help You starring as "Jonathon," a married gay man in denial. Other television series Rash has appeared in include the Emmy® award-winning crime drama, CSI; the NBC Emmy® award-winning sitcom Will & Grace; CBS's drama series NCIS; and the award-winning hit series Friends, where he made a guest appearance for the show's bittersweet final episode.

Originally from Charlotte, North Carolina, Rash graduated from the University of North Carolina in Chapel Hill where he received a Bachelor's Degree in radio, television and motion picture arts. Following graduation, Rash moved to Los Angeles and began taking improv classes at the premier comedy company, the Groundlings, where he has been a member since 1999.