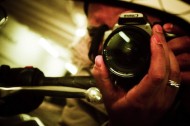 In a world of Facebook "likes" and online dating questionnaires that seem to narrow down the soul-mate search to a simple (and yet oh so witty!) checklist of wants and needs, it's easy to focus on the superficial ways in which we do or don't connect with each other. And granted, that stuff can make or break a first date, and can be indicative of a long-term connection. We both love darts! He's got a flat butt too! Another unabashed Miley Cyrus fan?! Still, superficial connections have a tendency to mask bedsheet-sized red flags. Like, oh, say, the fact that your date is a raging narcissist. So we turned to Gordon Livingston, M.D., author of the book How to Love: Choosing Well at Every Stage of Life, and asked him to weigh on the, well, weightier issues. Specifically, seven personality types that you should avoid in your search for Mr./Ms. Right. Even if said Mr./Ms. performs the best damn air guitar solo you've ever seen.
1. The Self-Absorbed Hysteric
These so-called "histrionic" people often describe themselves as "passionate and emotional." Their primary drive is to be the center of attention. Their self-absorption and superficiality make it hard for them to engage in the give and take of healthy relationships. Danger signals that one is in the presence of a self-absorbed "hysteric" include shallowness and a more or less constant need to be the focus of attention. It is just very hard for them to get beyond their own needs to consider their obligations to others, even their own children.