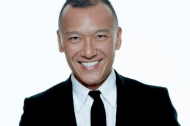 All on the Line with Joe, season 2 premieres Friday, November 25th at 9:30pm.
From NBC's ThreadNY:
Fashion doesn't always have a fairytale ending – a point being emphasized on the second season of Elle creative director Joe Zee's All On The Line, premiering on the Sundance Channel November 25th. On each episode Zee works with one designer to help get their businesses back on track. In the premiere episode, Zee is tasked with counseling Angelo Lambrou – an East Village-based designer who has found success in the bridal market but has struggled to create a viable ready-to-wear business.
Zee tells us, "I want people to realize how hard everybody has to work to make it. That's what's really exciting about this show…